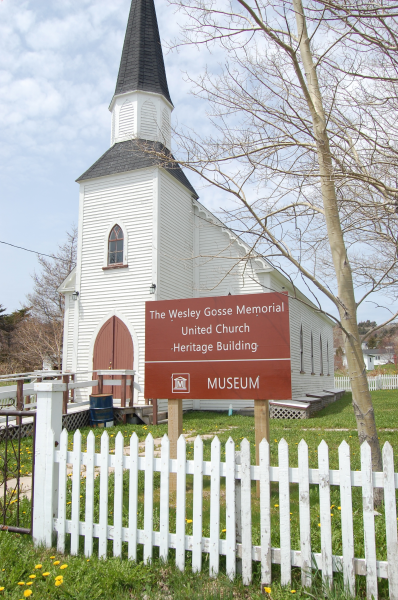 The Municipality of Spaniard's Bay Heritage Committee originally formed in 1996 under the chairmanship of Mr. Ed Neil. At that time, the group completed the Johnson Foundation history board project. The board is located at Veteran's Memorial Park and provides information about the history of Spaniard's Bay.
Now known as The Municipality of Spaniard's Bay Heritage Society, the group reformed in 2005 under the leadership of Mr. Wesley Gosse. It is now a member of the Museum Association of Newfoundland and Labrador and of the Heritage Foundation of Newfoundland and Labrador.
The Wesley Gosse Memorial United Church Heritage Building has been named to acknowledge the valuable contributions Mr. Wesley Gosse (1935-2009) made to the community of Spaniard's Bay. Mr. Gosse's municipal, teaching, religious, sports, military, Royal Canadian Legion, and Heritage Society accomplishments are many. Within these organizations he held various administrative and executive positions, as well as being a founding member of several. Mr. Gosse's memories of growing up in Spaniard's Bay were often published in the local newspaper. He founded and worked tirelessly on behalf of the Municipality of Spaniard's Bay Heritage Society. The preservation of this building and its use as a museum are a result of his foresight and effort.
The Society's mandate is to research, collect, record, and interpret all items of historical relevance to the municipality of Spaniard's Bay. These are displayed in the church for visitors to view and reminisce. Each summer students are hired as interpreters and are available to answer questions and have a chat.
The Society also hosts Sunday by the Sea, a weekly event with musical entertainment provided by local musicians. Each August, on the last day of Lassy Days, a Garden Party is held on our heritage building grounds. Several other events are planned throughout the summer. Community members and visitors are always invited to attend.
We invite you to drop by, browse, and take in the view from the belfry!
Categories: All, Avalon, Regional Listings
Municipality of Spaniard's Bay Heritage Committee
6 Church Hill
Spaniards Bay, Newfoundland A0A 3X0 Canada