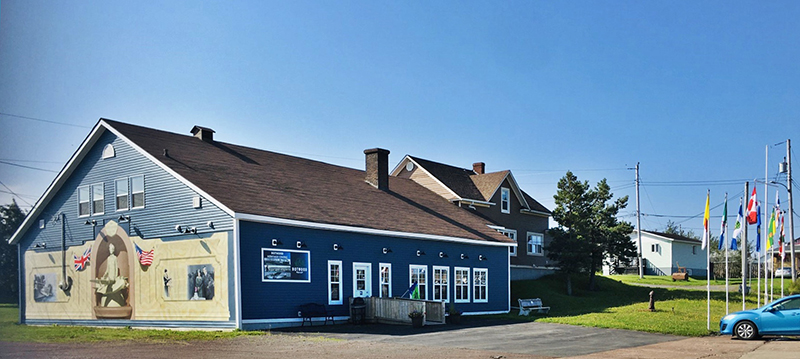 Botwood Heritage Society
The Botwood Heritage Society have been in existence since 1989. It operates two museums on the formal WWII Military Seaplane Base, now the Botwood Heritage Park. The Botwood Heritage Society oversees the day to day running of the Flying Boat Museum and Botwood Heritage Center.
The Botwood Heritage Centre (pictured above) teaches visitors about local and provincial history with over 15 exhibits. Museum Interpreters and Tourism/Heritage Assistants give tours to visitors from all parts of the province, Canada and international visitors.
The Flying Boat Museum (pictured below) shows the community's strong aviation history and houses the Ev Elliott Archives, one of the best archives in Newfoundland. Each museum as a mural painted on it, depicting some of history.
Also the Botwood Heritage Parks features a multi-purpose building that is used for special events, a Canso PBY and Killick Island. Killick Island is part of walking trails and is very popular with all visitors. As part of Killick Island there are four ammunition bunkers that were used during WWII. From the top of Killick Island there is an amazing view of the Botwood harbour. The Heritage Park is a popular spot for locals and visitors all through the year and is considered the heart of the community.
Categories: All, Aviation, Central, Community / Regional History, Library, Military History, Regional Listings, Social / Industrial History, Thematic Listings