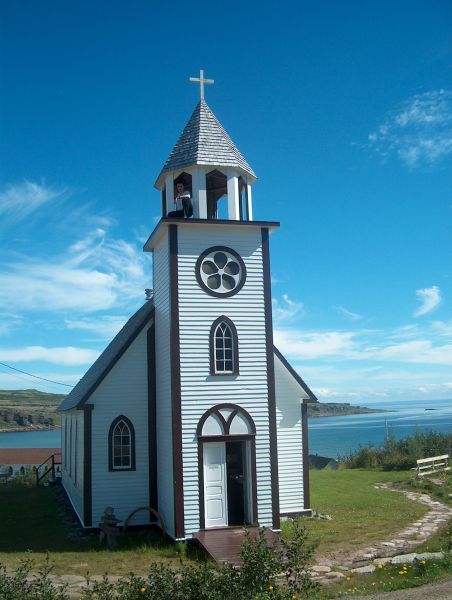 The Gateway to Labrador Visitor Centre is a restored early 20th century, gothic revival-style church. The Gateway is a handsome building with white clapboard exterior, pointed arch windows, the hexagonal-roofed bell tower, and a signature cinquefoil window.
The interior of the Gateway is equally striking with a pleasing combination of interpretative panels, art pieces, and artifacts that highlight attractions and sites on the Labrador Coastal Drive. Panels with beautiful photography relate the story of the people of Labrador from the First Inhabitants who arrived in Labrador some 9000 years ago to present day settlers.
Of particular interest at the Gateway is a series of reproduction artifacts, including a Thule harpoon and reproductions of the artifacts recovered at the 7500 year old site at L'Anse Amour. The Gateway also houses a display of artifacts from the Jersey Room at nearby L'Anse Au Cotard.
The pine walls and unique architecture of the interior of the Gateway are perfect backdrops for several commissioned pieces of art. The vibrant silk paintings by renowned artist Diana Dabinett bring the flowers, birds, whales, and icebergs of Labrador to life in dramatic style. The beauty of the Northern Lights is captured in a winter landscape painting by local artist, Janet Howell.
The Gateway to Labrador also functions as the heart of Labrador Coastal Drive's information system, providing visitors with information to ensure that their stay in Labrador is a memorable one.
Location: On Route 510 at L'Anse Au Clair. L'Anse Au Clair is accessible by the the Strait of Belle Isle ferry from St. Barbe, NL to Blanc Sablon, PQ, via the Relais Nordic Inc from Rimouski, PQ to Blanc Sablon , PQ, via the regional airport at Blanc Sablon, PQ and from the north by way of Route 500 and Route 389, PQ.
Categories: All, Labrador, Regional Listings
Gateway to Labrador Visitor Centre
Route 510, P.O. Box 112
L'Anse Au Clair, NL A0K 2PO