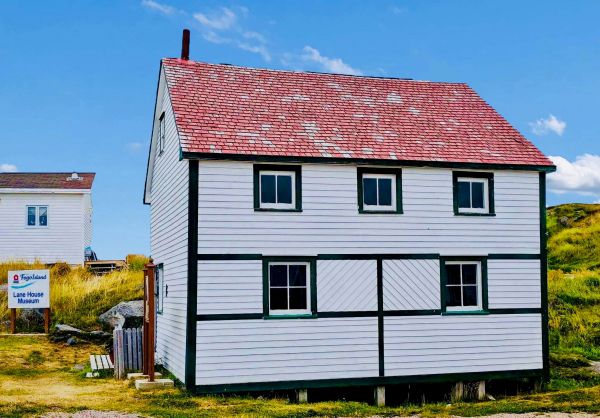 The Town of Fogo Island
The Lane House is the oldest house in Tilting and won the Southcott Award, for excellence in preserving the architectural heritage of Newfoundland and Labrador in 1997. It was built prior to 1836 by Irish cooper Augustin MacNamara (known as "Augie Mac"). Augie Mac came from Ireland with his sister, and was drowned in Black Rock Tickle (between Bunker Hill and Sandy Cove Beach). After he drowned, Aneas Dwyer purchased the house, he sold it to Dick Cashin, who then sold it to Laurence Lane for $75. It was then inherited by his son Michael Lane. He lived in the house until the fall of 1993, when it was then purchased by the Tilting Expatriate Association, and restored as a museum.
The first floor of this four-bedroom house contains a small porch, pantry, kitchen and living room. Connecting the first floor to the second there is a spiral staircase, the only one of its kind in Tilting. This staircase was built by the original owner, Augie Mac. The cooper (a barrel maker) was used to dealing with curvatures in his daily work, and implied this design to the staircase. Each room in The Lane House is also filled with fascinating artifacts from the citizens of Tilting which display the intriguing cultural heritage of the community.
The Lane House was designated a Registered Heritage Structure by the Heritage Foundation of Newfoundland and Labrador in 1994.
Categories: All, Central, Community / Regional History, Coopering, Heritage Building, Regional Listings, Registered Heritage Structure
Lane House Museum
23 Kelly's Island Road
Tilting, Fogo Island, NL A0G 4H0