The Town of Fogo Island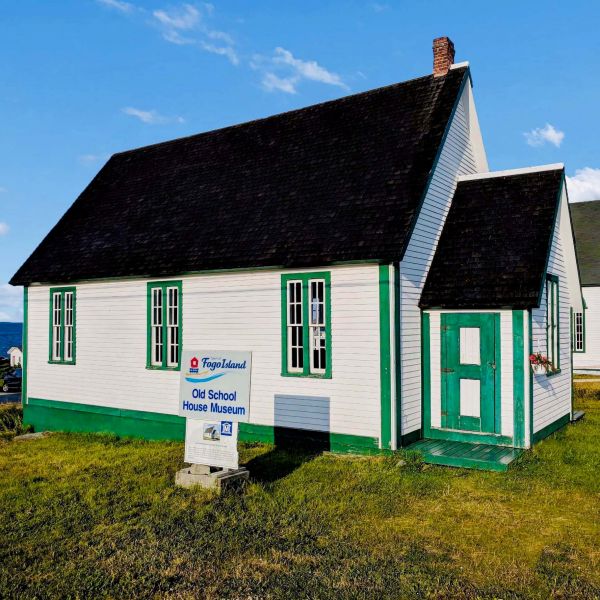 The Old Schoolhouse is a rectangular, single-storey former school building with symmetrically placed wooden windows along the sides, a steeply pitched gable roof, and a front gable-end entry porch with wooden doors. It is located next to Our Lady of the Snows Roman Catholic Church on Main Street in Fogo. The building currently functions as a museum. The municipal heritage designation is confined to the footprint of the building.
The Old Schoolhouse has historic and aesthetic significance.
The Old Schoolhouse has historic value due to its age, its historical function, and its association with Fogo's Roman Catholic Congregation, which operated the school from 1888 to 1969.
The Old Schoolhouse has aesthetic value as a good example of a nineteenth century school building in Newfoundland. The simple, rectangular, single-storey form and overall symmetrical design produces a tidy appearance which is historically typical of one room schoolhouses in the province. The influence of Gothic Revival architecture is seen in the steeply pitched rooflines of both the body of the building and the small porch centred in the front gable end and the long, regularly placed, multi-paned windows. The porch has a panel-style wooden door at each side, purportedly so that girls and boys would enter the school separately at their delegated side. The brick chimney at the front gable end harks back to the time when such school buildings were heated by woodstoves.
The Old Schoolhouse has aesthetic value amongst a cluster of historic ecclesiastical properties visible along Fogo's Main street, including St. Andrew's Anglican Church and Cemetery, Fogo United Church and Our Lady of the Snows Roman Catholic Church. The schoolhouse's close proximity to the latter church, along with common elements of the two buildings (steep roof, rectangular building design with short façade, white and green colour scheme), clearly implies an historic connection between the two nineteenth century Catholic buildings at the centre of Fogo's cultural landscape.
Admission:
$5.00 per person
Museum Pass (access to all 10 heritage properties):
Single Pass (one person) = $15.00
Couples Pass (two people) = $25.00
Group Pass (3-10 people) = $40.00
For more on Fogo Island Museums & Heritage Structures please visit: http://www.townoffogoisland.ca
Listing Details
Categories: All, Central, Regional Listings
Old School House Museum
4 Silver Street
Fogo, NL A0G 2B0