Mistaken Point Cape Race Heritage Inc.
The Mistaken Point Interpretive Centre is the starting point for your explorations at the edge of Avalon. Come in to visit and view a detailed interpretive map of the area, receive directions for hiking trails, and check out the bulletin board for special events and wildlife sightings. Friendly staff interpreters are always ready to answer your questions and help you plan your day with up-to-date information and advice.
Mistaken Point Ecological Reserve and UNESCO Heritage Site contains the oldest and largest known fossils of complex, multicellular organisms from 579-560 million years ago. Tour is 3-4 hours and includes a 6 km return hike to the fossil site. Access to the fossil site is by guided tour only, and all visitors must begin their tour at the Mistaken Point Interpretive Centre.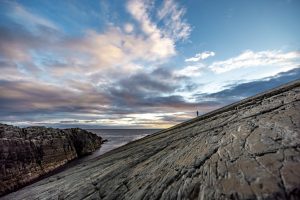 Built over 100 years ago, the Cape Race Lighthouse is a towering and impressive giant. A technological feat of its day, it's one of the last hyper-radial Fresnel lens lighthouses in the world. Still operational, the lighthouse is tended for 28 day shifts year-round by Light Keepers who make it their home – hear stories of shipwrecks, local history, and experience authentic Newfoundland culture.
The Myrick Wireless Interpretation Centre immerses visitors in the earliest days of wireless communication and telegraphy in Newfoundland, when Cape Race was one of the busiest Marconi stations in North America. It is named for the Myrick family who lived and worked at Cape Race from 1874 until 2007, serving as light keepers, fog alarm operators, telegraphers and wireless operators. Knowledgeable guides help bring history to life as they share the remarkable moments that once happened there in electric detail.
One of the most memorable moments in marine history, the sinking of the RMS Titanic has a direct link to the history of Newfoundland and Labrador. The Marconi station at Cape Race was the first land station to answer Titanic's distress call, helping to coordinate the rescue effort for survivors of the fateful voyage.
Categories: All, Avalon, Flora and Fauna, Geology / Fossils, Heritage Building, Lighthouse/Lighthouse Keepers, Nature Trails / Park, Regional Listings, Thematic Listings
Off Route 10
Portugal Cove South, NL
Open Monday – Sunday 9 AM – 5 PM May – middle of October. Myrick Wireless Interpretation Centre is open July – middle of September.