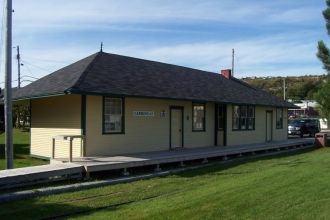 The Town of Carbonear
Today the former Carbonear Railway Station is home to a small exhibit of Newfoundland and Canadian railway memorabilia. It also houses the Carbonear island exhibit: "Traces of the Past".
The Railway Station has been designated an historic structure by The Historic Sites and Monuments Board of Canada, The Heritage Foundation of Newfoundland and Labrador, and the Municipality of Carbonear.
With its narrow wooden clapboard and window and door placement, this one storey building is representative of the medium-sized, full service, non-residential type of branch line stations in Newfoundland. It is a rare surviving example of the smaller Reid Newfoundland Company railway stations.
Categories: All, Avalon, Railway, Regional Listings, Transportation
Carbonear Railway Station

Carbonear,