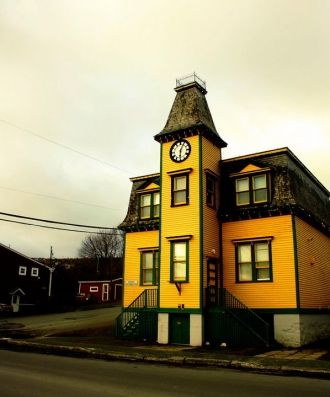 Carbonear Heritage Society
The Old Carbonear Post office is considered to be one of the finest and best preserved example of the Second Empire construction style. The Post Office was built in 1905 to replace a larger one that burned down in 1904. Over the years the building served as a post office, customs house, welfare office, a bank, telegraph office, craft shop and artist's studio. It now home to the Carbonear Heritage Society office and archive.The building also houses the "Tryphonea Nicholl" exhibit and The "Going Foreign" exhibit, along with a small display of Carbonear artifacts.
The building was registered as a heritage structure in 1988 by the Newfoundland and Labrador Heritage Foundation. It is characterized by a Mansard roof with dormers and a distinctive clock tower. It also has classic elements such as eave brackets and heavy wood moldings on all windows.
The Carbonear Railway Station is another project of the Carbonear Heritage Society and is located at 256 Water Street in Carbonear.
Categories: All, Avalon, Regional Listings
Old Carbonear Post Office
182 Water Street
St. John's, Newfoundland and Labrador A1Y 1B6