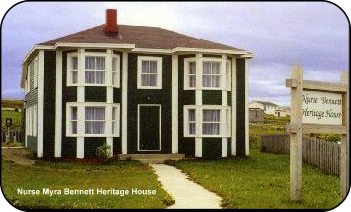 Nurse Myra Bennett Foundation
Known throughout the province as "Florence Nightingale of the North," Nurse Myra Bennett provided more than 50 years of nursing and medical services along the rugged coastline of the Newfoundland's Northern Peninsula. The museum is located in the 1922 built two-story traditional house which was home to Nurse Bennett for 68 years. In addition to her numerous awards, Nurse Bennett was also the forerunner to the establishment of the Newfoundland Outport Nursing and Industrial Association (NONIA) founded in the 1920's, which was instrumental in providing nursing services in rural communities for generations of Newfoundlanders. Complete with period furniture, medical instruments, and personal memorabilia, the museum consists of restored 1920's-period medical clinic, kitchen, pantry, dining room, parlour, four bedrooms and a bathroom.
follow the Viking Trail, route 430
c/o Nurse Myra Bennett Foundation, P.O.Box 31, Daniel's Harbour, NF A0K 2C0
h
Archive and Gift shop on location.
Site is Wheelchair accessible.
Categories: All, Regional Listings, Western
Nurse Myra Bennett Heritage House

Daniel's Harbour, NL A0K 2C0