Professional Development
As part of its mandate to promote professionalism and skills development within the museum community, the Museum Association of Newfoundland and Labrador provides a Certificate in Museum Studies. This program provides museum workers with a general introduction into current theories, standards, and best practices for museums. The content of the certificate program is based on topics covered in MANL's Best Practices publication.
MANL - Certificate in Museum Studies Registration Form
UPCOMING TRAINING OPPORTUNITIES
Decolonizing the GLAM: CMA Panel Discussion
Join the Canadian Museums Association and the Capital Heritage Professionals Network for a "Decolonizing the GLAM Sector" panel discussion and networking event on Thursday, October 12. This event wil take place both online and in-person at the Canadian Museum Association office at 130 Albert Street, Suite 1203! We will hear from Melissa Black from the Ottawa Public Library, and Skylee-Storm Hogan-Stacey from the Office of the Special Interlocutor, with time for discussion and a Q+A.
To register for this event online or in person, please follow this link.
---
CMA Insurance Program & Marsh: Protecting Your Museum from Cyberattack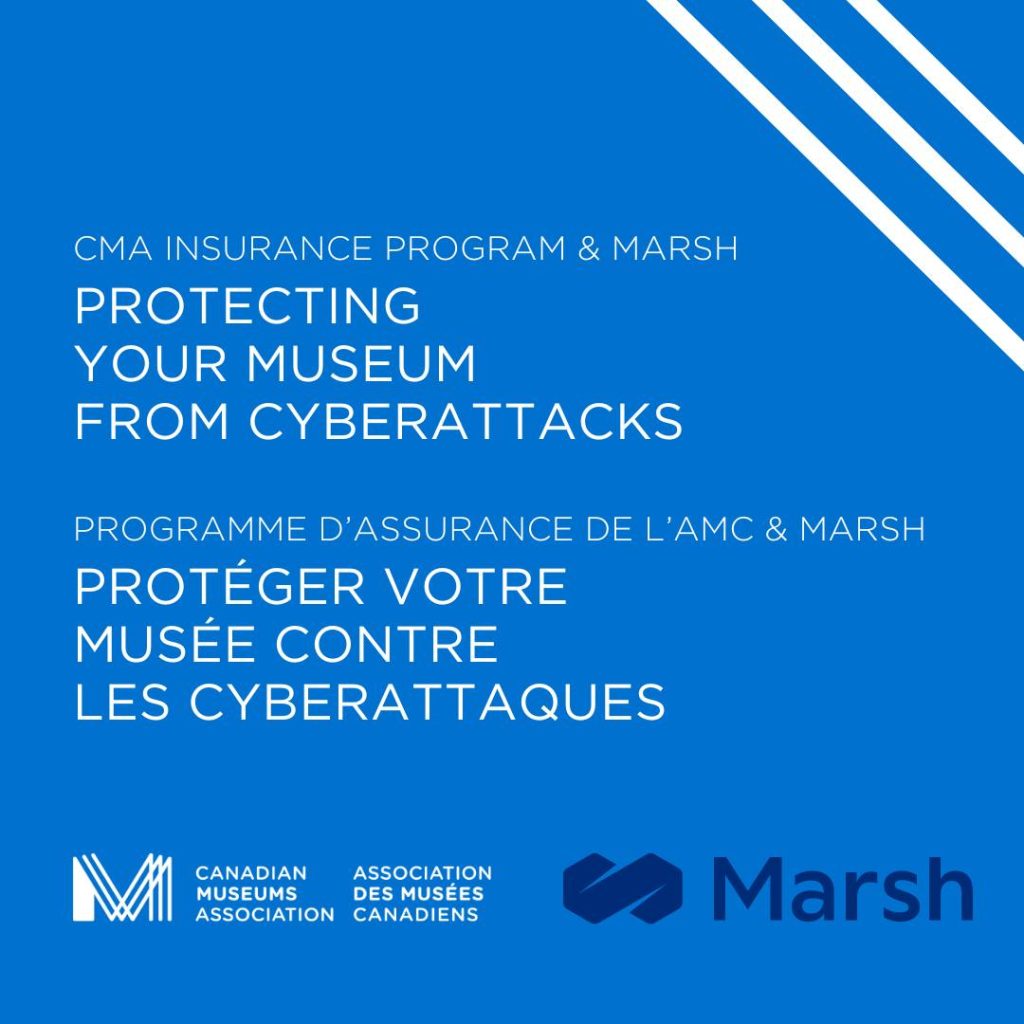 Cyberattacks are very prevalent in the news, but what exactly is a cyberattack? How do you know if you are adequately protected and prepared in the event of such a threat?
MANL members are encouraged to join the Canadian Museums Association on September 20th for an educational session hosted by Marsh Canada to learn more about cyberattacks, how they are relevant for your organization and steps you can take to mitigate risk.  The session will take place on Wednesday, September 20th at 1:30 p.m. Newfoundland Time (NT) / 12 p.m. ET , and will be offered in English with simultaneous translation into French.
To register, please click here:
ABOUT THE PRESENTER:
Karen Continenza is a Senior Vice President and Cyber Claims Specialist within the Marsh Canada Cyber Group, responsible for carrier and client collaboration and advocacy of all commercial lines of coverages associated with cyber risk.
---
Response Ready? Developing an Emergency Response Plan for Heritage Institutions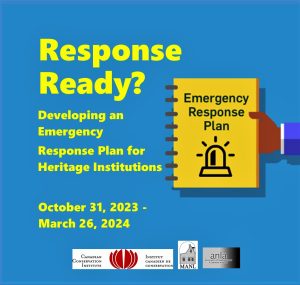 The Association of Newfoundland & Labrador Archives (ANLA) and the Museum Association of Newfoundland & Labrador (MANL) invite their members to register for Response Ready? an online workshop presented by The Canadian Conservation Institute (CCI) from October 31, 2023 to March 26, 2024.
This workshop is well suited for heritage professionals who are responsible for writing and implementing an Emergency Response Plan, especially those that have no plan or an outdated plan. Since the emergency planning process benefits from multiple perspectives, we encourage participation by up to three people per organization. Due to the interactive nature of this workshop, attendance is restricted to 10 institutions.
The workshop will comprise of twelve 60-minute sessions, grouped into five highly interactive modules. The modules will be scheduled over a period of five to six months. Particpation in all sessoins is mandatory and will involve:
• attendance at a 20-minute technical trial session in late October
• attendance at all sessions for all five workshop modules,
• reviewing workshop resource materials prior to each module (15–30 minutes) and
• completing exercises between the sessions for each module (1–2 hours).
---
PAST TRAINING OPPORTUNITIES
MANL Workshop: Introduction to Exhibit Development
MANL Workshop: Public Programming for Museums
CCI WORKSHOP: Bug Bites
1. ANLA Workshop Series: Basic Archives - An Introduction to Archival Practice
Young Canada Works Virtual Application Workshop
MANL Workshop: Introduction to Exhibit Development
MANL Workshop: Introduction to Collections Management
CCI WORKSHOP: Introduction to the Identification and Care of Photographic Materials
---
APPLY FOR A CMA BURSARY!
With the support of the Government of Canada, the CMA is pleased to offer The Emerging Professional Development Bursaries to assist museum professionals in their professional development. MANL encourages all its members to apply for the Emerging Professional Development Bursary. PLEASE NOTE: You must apply for a bursary four weeks before the event you are planning to attend.
The Emerging Professional Development Bursaries are given out to promote the exchange of knowledge and learning between museum professionals at the beginning of their careers. The program provides financial assistance to individuals to attend short courses, seminars, and workshops, including with costs of travel, accommodation and registration fees.
Email: bursaries@museums.ca
Fax: 613-233-5438